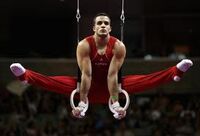 Danell Johan Leyva Gonzalez
is an Cuban-American gymnast born on October 30, 1991 in Cardenas, Matanzas, Cuba. Leyva's mother and step-father (who is also his coach) defected to the USA when Leyva was just a year old. Leyva's step-father receives attention by the media at events for his enthusiastic outbursts. Leyva is the 2011 National Champion and normally missed defending his title in 2012. On June 30, 2010, Leyva secured himself a spot on the Men's Gymnastics Olympic team by finishing first at the Olympic Trials. Leyva bounced back from a disappointing finish in the team final to win the bronze medal in the all-around final.
Major Results
Edit
Summer Olympics
2012 Team - 5th
2012 All-Around - 3rd
2012 High Bar - 5th
USA National Visa Championships
2009 High Bar - 1st
2009 Parallel Bars - 2nd
2010 All-Around - 2nd
2010 Parallel Bars - 1st
2010 High Bar - 3rd
2011 All-Around - 1st
2011 Parallel Bars - 1st
2011 High Bar - 1st
2012 All-Around - 2nd
2012 Parallel Bars - 1st
2012 High Bars - 1st
World Championships
2011 Parallel Bars - 1st
2011 Team - 3rd
Ad blocker interference detected!
Wikia is a free-to-use site that makes money from advertising. We have a modified experience for viewers using ad blockers

Wikia is not accessible if you've made further modifications. Remove the custom ad blocker rule(s) and the page will load as expected.