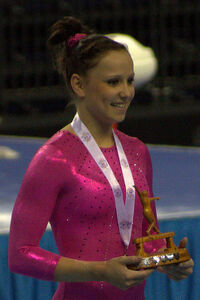 Hannah Kate Whelan was born on July 1, 1992 in Singapore. Whelan was a member of the 2008 Great Britain Olympic team and will also be a member of the 2012 team where she will compete in Women's Artistic Gymnastics. She was British All-Around Champion in both 2010 and 2011. She trains at City of Liverpool Gymnastics club along side Beth Tweddle, Jennifer Pinches and Rebecca Tunney who are also on the British 2012 Women's gymnastics team.
Major Results
Edit
Summer Olympics
2008 Team - 9th
2012 Team - 6th
2012 All-Around - 24th
European Championships
2012 Balance Beam - 3rd
2012 Floor - 3rd
External links
Edit
Ad blocker interference detected!
Wikia is a free-to-use site that makes money from advertising. We have a modified experience for viewers using ad blockers

Wikia is not accessible if you've made further modifications. Remove the custom ad blocker rule(s) and the page will load as expected.