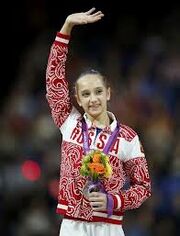 Viktoria Aleksandrova Komova
is a Russian gymnast born on January 30, 1995 in Voronezh. Komova is the reigning World Champion on uneven bars. Komova's mother, Vera Kolesnikova, is a former World Champion gymnast. Komova will be a member of the Russian Women's Gymnastic Olympic team. Komova won a silver in the team and all-around competitions at the 2012 games.
Major Results
Edit
Summer Olympics
2012 Team - 2nd
2012 All-Around - 2nd
2012 Uneven Bars - 5th
2012 Balance Beam - 8th
World Championships
European Championships
2012 Team - 2nd
2012 Uneven Bars - 1st
Ad blocker interference detected!
Wikia is a free-to-use site that makes money from advertising. We have a modified experience for viewers using ad blockers

Wikia is not accessible if you've made further modifications. Remove the custom ad blocker rule(s) and the page will load as expected.